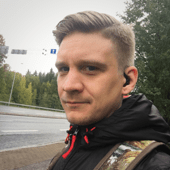 Jesse
Project management
Jesse is working in our ever-growing Magical Support team, taking care of our customers and managing projects and continuous development for our customers' web services. He joined us in February 2022.
About work: Jesse describes himself as a multi-talented peacemaker with a strong developer background. He knows a lot about mobile products' life-cycle management and MES/ERP systems. He has also worked as a project manager and Scrum Master, and prefers to focus on project management for now. Luckily for us!
Outside of work: Jesse lives in Tampere and enjoys many sorts of activities in his free time. He's into gaming – "Lost Ark is da bomb right now", he declares – playing various instruments, and organizing gigs and LAN-parties. He also plays badminton and tries to pick up squash again, dabbles in the kitchen, and enjoys TV series, movies and reading.