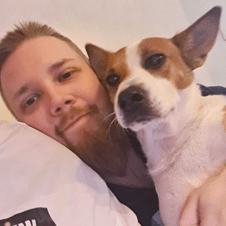 Tuukka
(Mostly) Frontend Developer
Tuukka found his way to Druid back in 2014: he started as an intern, was offered a job and has stayed with us ever since. He is more focused on front-end development, both Drupal and modern JS. For example, he has been developing a JS based design system for the University of Helsinki.
About work: "The main reason I've stayed at Druid for this long are people, nice colleagues. I've also had the chance to work on large, long-term projects – I don't like jumping from one project to another", Tuukka says. He has been developing the University of Helsinki web services for several years. 
"I started with continuous development of the University's Drupal 7 website. Over the years the team has grown and changed, and we have now upgraded the main site to Drupal 9. The work continues", he describes.

Life outside of work: Tuukka values peace and quiet. He likes to hang out at home and in nature with his spouse and their dog Lilo, an energetic three-year-old mixed breed. In the summer time, you can find Tuukka at the cottage, by the lake or in the forest.
Tuukka got into video games back in the 90's with the good old Commodore 64. Nowadays he likes to play various strategy games and also some "weird simulation games", as he puts it.