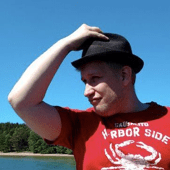 Arto
Founder, Owner, Chairman of the Board, Scrum Master, Project Manager
Arto is one of the founders and owners at Druid and has been working at the company since the beginning, 2012. The initial thought was to create a workplace for developers where things are done agilely and in the right way for customers. This principle still remains. 
Arto's daily work includes everything that keeps the company running. It can be anything from thinking about where the company is headed in the long run or ensuring that a specific form is filled to keep the servers running.
About work: "It is really nice to see when things are moving forward. I enjoy building the "big picture" and this is what I get to do now. Also, it is the simple things we share that make things work better, so helping to share and to avoid silos gives me a good feeling". 
Life outside of work: Arto enjoys doing different things according to the season. Some of his hobbies include climbing, sailing, cycling, playing the guitar and coding. "Taking my kids on bike rides is also relaxing, since there is no rush anywhere when you are with them, you have time to explore," he says. A fun fact you probably didn't know about Arto is that he has built his own climbing wall at home.