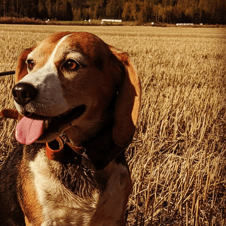 Laku
Works at Druid mainly as the Chief of Happiness
Laku has been working at Druid since 2014. He can be seen at the office every now and then. Currently Laku mainly works as the Chief of Happiness when visiting the office. 
About work: "I love it when people pet me and give me attention", says Laku, a social and hard-working little Beagle. 
Life outside of work: Laku enjoys hunting, especially searching for rabbits. Outside of rabbit-hunting season, Laku mainly enjoys eating and chilling.