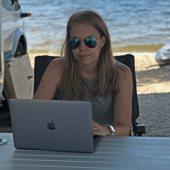 Erika
Project management
Erika joined Druid in the spring of 2021. She is working as a project manager, helping both our customers and maintenance team. Erika's daily work includes a lot of customer communication, coordinating work, helping others and moving things forward. 
About work: "Here I can challenge and develop myself and my skills since there's so much happening every day. It's also nice that people are trusted and I can do my work independently – and yet I always have a team around me to support". Erika is very self-directed, and likes the fact that it's encouraged here at Druid. 
Life outside of work: "I really enjoy spending time outdoors and in the nature, and this is something I love doing with my family as well. We have a mobile home so that we can explore new places and even our two cats join us on our journeys." A fun fact that you probably didn't know about Erika is that she's really good at baking fantasy theme cakes. She's also a passionate decorator.