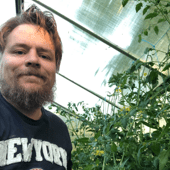 Pasi
Operations Lead
Pasi joined Druid in 2019 as a Drupal developer. Shortly after, he also became responsible for our customer support and maintenance. Pasi says he is motivated by the success and experience of the customers, and he has a strong drive to make things technically right and well. "Guiding colleagues and customers is not always the most fun thing to do, but maybe that's where I'm at my best", he says.
About work: "The best thing about working at Druid is definitely the culture. The desire to make things better than others. We set high standards for ourselves and want to do things well and in the right way, even the things that cannot be seen by the customers. Technical excellence is what we aim for." Another thing that Pasi appreciates is that mistakes are handled in a mature manner: "We see mistakes as a natural part of learning and development. When mistakes happen, we handle them in a way that values people, we try to learn from them and see how we can avoid doing the same mistakes in the future."
Life outside work: Pasi describes himself as a scrap collector and a handyman. He enjoys recycling different materials and building things. Some of his free-time hobbies include woodwork, metalwork, fixing things in his own workshop, farming and taking care of his family – children, two cats and 15 chickens. A fun fact you probably didn't know about Pasi is that he's also a wine maker. The current batch is made of dandelions.