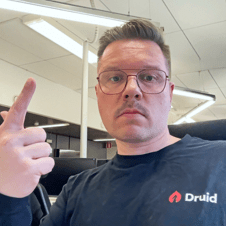 Marko
Platform Engineering Lead
Marko joined Druid in 2015 as a software developer. The first year he was working full-time in a customer project, and then he took on the role of CTO. "My day-to-day work still involves a lot of coding, but it's mostly internal projects and systems these days," Marko says. Marko also thinks about the bigger picture related to the technologies and services we provide.
About work: Marko says the best thing about working at Druid in this role is the freedom and flexibility to choose what to work on and when. 
"A lot of times I can choose what I want to do and when I want to do it. There are of course some ad hoc things to take care of every now and then, but in the big picture I have the freedom to manage my own time", Marko explains. He works remotely most of the time and typically visits the office once a week.
Marko also thinks that a low hierarchy brings a certain ease to work: "We have a laid-back, open and respectful atmosphere where people feel safe to express their opinions and ideas. There's no need to worry about sounding stupid or stress about anything."
Life outside of work: "Sports is my lifeline", Marko states. Gym, and especially ice hockey: he started playing at the age of 34 without any former background and tries to learn from Canada's simple game strategy. Marko also likes to watch TV series and movies, mostly sci-fi and fantasy. The Man in the High Castle is one of his current favorites, a mix of sci-fi and history. Lounging on the sofa with the family's cats is always a good option, too.